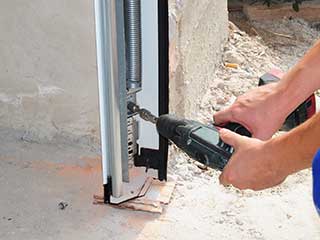 The typical family uses their garage door more than a thousand times every year. When it breaks down, it can cause a major disruption to your daily routine, not to mention pose some serious safety risks. We understand how important it is to get your door working again as quickly as possible, and our professional technicians are dedicated to solving your problems as quickly and effectively as we can.
Finding The Root Cause
We don't just fix the symptoms of a problem; our team takes the time to investigate what's caused it in the first place. This allows us to prevent certain issues from reoccurring once we've repaired the part in question. If your opener's motor gear starts wearing out, for example, or the tracks your door uses to guide its movement become misaligned, you can count on our team for an effective and long lasting solution.
Checking For Further Damage
Sometimes, when a roller, a cable or any other part of your garage door breaks, it can damage other components in the process. When a spring fails, for example, it puts additional strain on the other load-bearing parts of the system. That's why our technicians always make sure to carefully check the entire system for signs of damage every time they get called for such a reason.
Thorough Testing Procedures
Once our technicians have repaired the problem you're dealing with, they'll put your door through some safety tests. We need to know that the system is capable of functioning perfectly once again, not only because it could lead to more serious issues later on, but also because your personal safety could be at risk.
Contact Our Team Today
If you're having issues with your garage door, and you need a professional to help you out, you can trust our experts at Garage Door Repair Conroe to take care of the problem for you. Our team is ready and waiting to fix any problem, so don't hesitate to get in touch with us today.
We also offer:
Garage Door Cable Replacement
Genie Garage Door Openers
Garage Door Tune Up Services
Emergency Garage Door Services