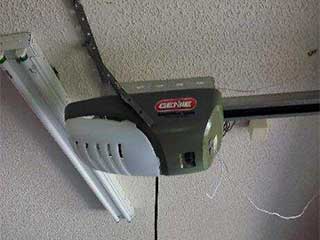 There are many different quality opener brands, each with its different models and unique features. There are a lot of things you need to consider before buying a new unit, and our experts can make sure you don't neglect any of them.
The Specific Requirements
Things like the weight and size of your door will determine how powerful your opener will need to be, i.e. how much horsepower it will need to be able to produce. Whether or not your garage is close to your bedroom is another determinant factor. A chain-drive opener, for example, can be very affordable, but also extremely noisy, while a belt-drive unit may be a tad more expensive, but also incredibly quiet. Understating these things will help you make an informed decision.
Some Additional Features
Of course, aside from the absolute necessities, there are more than a few extra upgrades that may be well worth your consideration. A backup battery system, for example, will allow you to keep using your opener for several hours during a power outage. WiFi compatibility can grant you the ability to open and close your door using your smartphone, ergo, from virtually anywhere in the world. The Genie Intellicode and LiftMaster's Security Plus are examples of the application of rolling code technology (each by its respective brand, of course), which will make it impossible for burglars to exploit your opener in order to gain access into your home.
We Also Fix Things
Our experts will of course be more than happy to help you find the perfect model for your home, but when opener repair is necessary, we don't shy away from the tasks. Our technicians specialize in fixing anything from worn out motor gears to malfunctioning circuit boards. But that's not all we do.
Maintenance Is The Key To Longevity
The regular opener maintenance services we offer will make sure minor issues don't develop into major ones, and that your system stays safe to use as well. We will inspect every part and test the safety sensors to make sure they are aligned correctly and are able to detect an obstacle. All of this (and more) will save you the hassle of dealing with more costly repairs later on, as well as prevent all sorts of accidents from ever occurring. Contact our team at Garage Door Repair Conroe to learn more about how we can help you today.
Count on us when it comes to:
Galvanized Torsion Spring Replacement
Door Opener Troubleshooting Services
Roll up Garage Door Maintenance
New Garage Door Installation